Statewide academic workers' strike comes to UC Riverside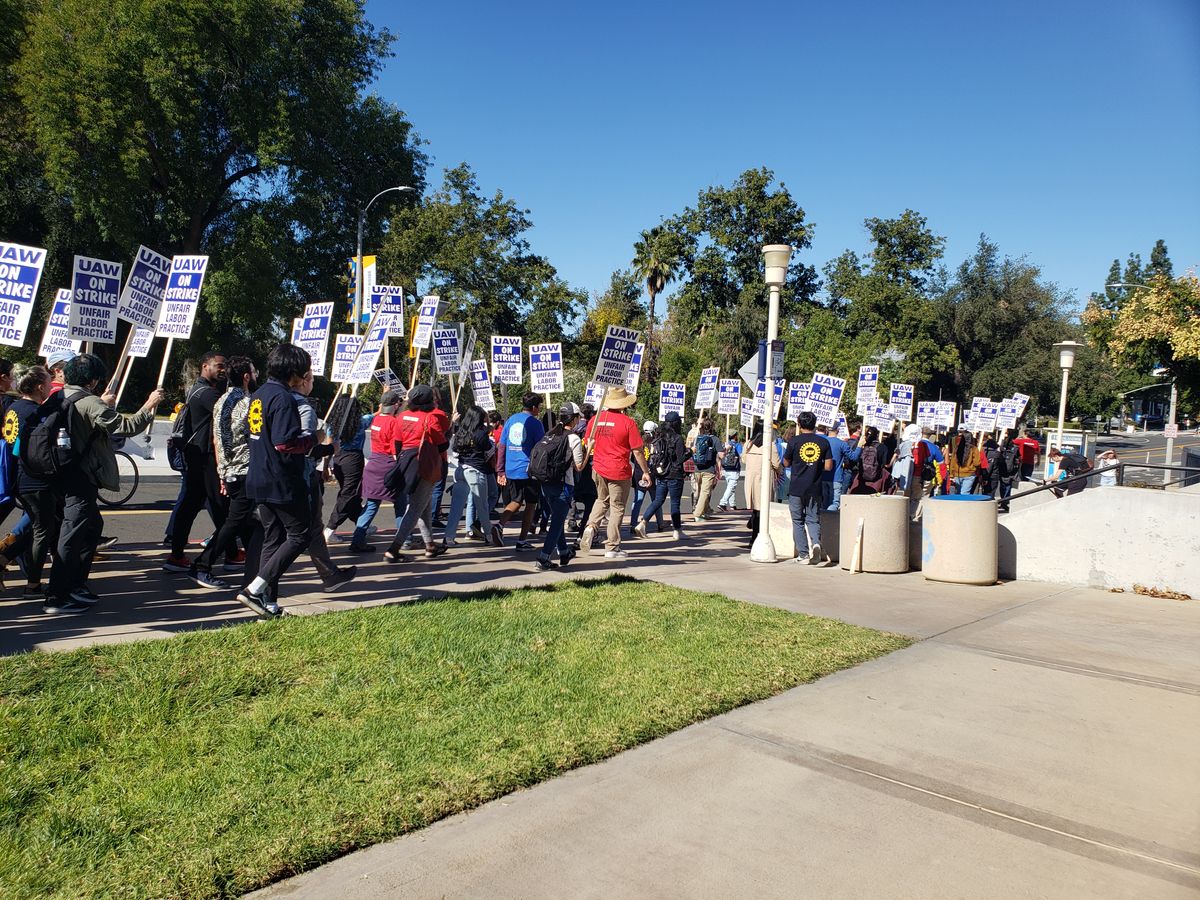 Academic employees at UCR represented by UAW 5810, UAW 2865 and the newly-established SRU-UAW, started striking on Monday, November 14
RIVERSIDE – The strike responsible for partially shuttering campus activities throughout the University of California system this week also hit UC Riverside.
Academic employees at UCR represented by UAW 5810, UAW 2865 and the newly-established SRU-UAW, started withholding their labor on Monday, November 14. They took to picketing on the perimeter of campus just off University Avenue and Canyon Crest Drive and beyond the ARTS and the CHASS Interdisciplinary North buildings.
Striking workers, along with throngs of undergrads and others from the campus and surrounding community who came out in support, marched, chanted, rallied, spoke over megaphones, held signs, handed out pro-union swag, distributed free snacks and drinks to keep picketers fueled throughout the day, and educated passersby in what the country's largest coordinated labor stoppage in 2022 so far, according to the Los Angeles Times, looks like in the Inland Empire.
Several times throughout the first day, strikers and supporters marched down Canyon Crest, circling back the other direction at the crosswalk across from The Getaway Cafe, moving down and around University Avenue on the sidewalk toward the stoplight, turning left onto West Campus Drive and crossing that intersection onto the sidewalk on other side of street. More than a minute elapsed as everyone crossed the street at the light before making another left back toward the campus interior across from Hinderaker Hall. Backed by a rhythm provided by the beating of pots and pans, they circled around the Arts Building and past the apropos "Change Things" art installation, returning to the picket spot just beyond the CHASS building. Just before dusk, the defiant university workers made that trek twice in about half an hour.
Jeff Villalobos, a fourth-year undergraduate, could be overheard via bullhorn during the day, – entreating, "Come get a free sandwich!", courtesy of the Basic Needs Department.
"We know all about what it takes for someone to have their basic needs met," Villalobos said. "On top of getting an education, it's important for people to have their basic needs met – like housing, food; you can't you can't focus on your education without these basic needs. So [we] just wanted to come out here, show our support, and feed some people. We heard y'all ran out of food, so we brought some sandwiches. And yeah, we support the cause."
As regards the cause, Craig Sheldon, a graduate student researcher in the chemistry department at UCR, said he and others are on strike and picketing for a variety of reasons but primarily because estimates suggest upwards of 90 percent of graduate students are rent burdened and they want a living wage.
"We're striking for international students' rights protections against using their immigrant status, or their visa status, as a weapon against them," Sheldon added. "We're here to strike for better transportation access so that those who do not live on campus can get to campus without owning a car. So better transit, better bus systems, better trains, to decrease the number of miles driven. Because every day, the UC grad students travel over a million miles collectively, because people can't afford to live where they work."
Although the issue of rights for international students doesn't affect him personally, Sheldon said he has many friends he's met at the university who are afraid of retaliation and worried about going on strike because of their international status.
Frantzeska Giginis, a graduate student researcher who's also worked some quarters as a TA in the cell, molecular, and developmental biology program at UCR, arrived with a staff organizer at 6:45 a.m. the first day, to transport some 700 signs from vehicles to the picket location and set up the picket area with union delegates and activists. She served as a strike captain throughout the rest of the day, guiding striking grads and working to ensure people didn't get hurt.
Giginis said UC management has yet to come to the bargaining table in good faith, opting instead to engage in "regressive bargaining," making offers in negotiations amounting to less than what employees had already obtained.
"We're really going on strike because of the university's illegal practices at the bargaining table," she added. The university has broken, like, a ton of laws called unfair labor practices, or ULPs."
As Giginis spoke from the outskirts of campus, an undergrad who identified as Brian approached inquiring about events. "But honestly," Brian said, "I kind of find it really fucked up how – and excuse me for my language – I find it really fucked up how [grad students are] being overworked, and not only that, they're getting underpaid, too."