Amazon Air workers organize walk out to demand increased wages, safer working conditions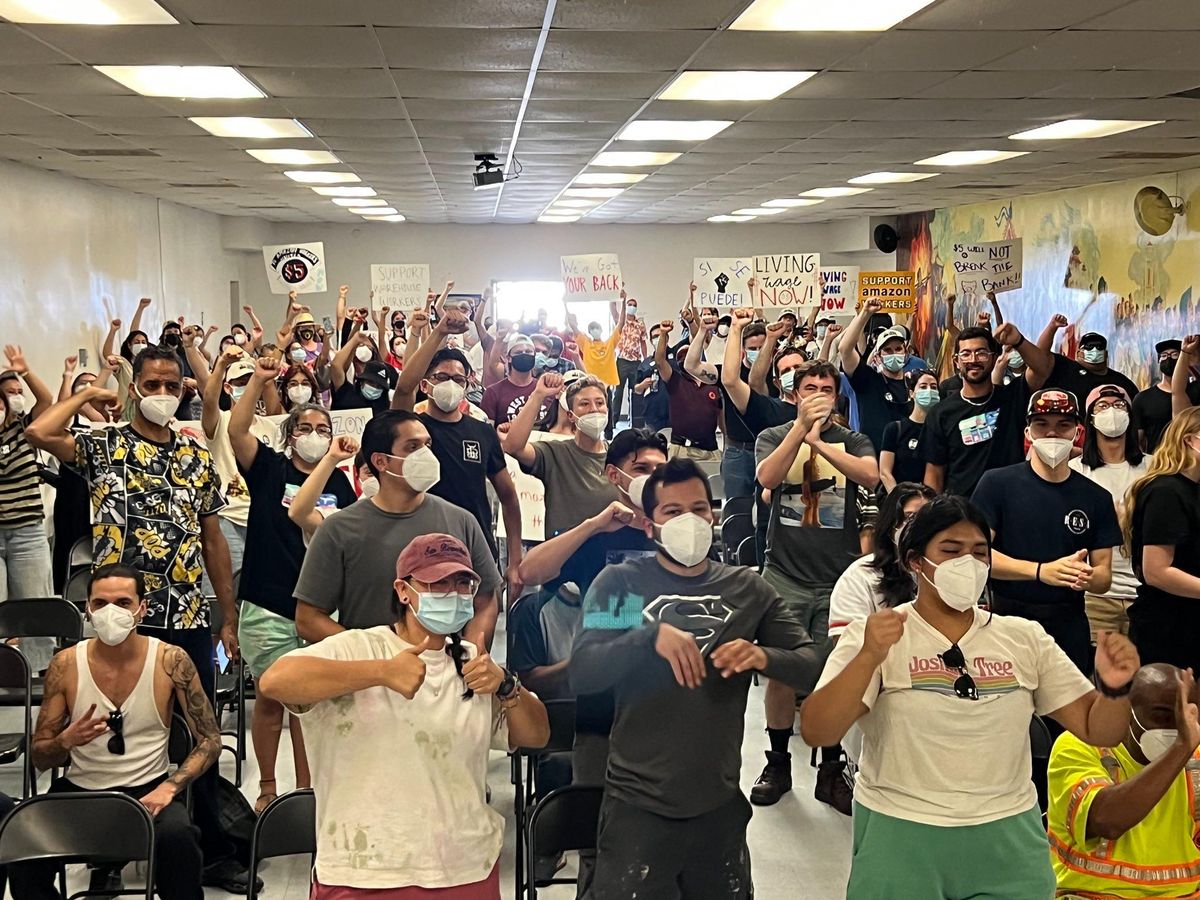 A petition submitted to management by the Inland Empire Amazon Workers United's calls for a $5 increase in hourly pay and for safer working conditions inside the facility
San Bernardino – Amazon Air Regional Hub workers organized a walk out earlier this afternoon to demand increases in pay and improved working conditions.
Over 100 workers walked off site and were later welcomed by labor unions, community groups and residents who have challenged Amazon in recent years.
The workers, who are organizing under the name 'Inland Empire Amazon Workers United', are calling for their base pay to be raised from $17 an hour to $22 an hour. They are also demanding safer workplace conditions, especially as summer temperatures soar over 100 degrees in San Bernardino and other parts of the Inland Empire.
"This increase is for them – for those associates who can't afford to take time off and who are intimidated," said Alfonso Rodriguez. "So let's reflect on what we've done today and get ready for what's ahead tomorrow."
In July, workers submitted a petition to management with about 900 signatures during Prime Week to make their demands. According to the petition, Amazon and local leaders promised good quality jobs but have failed to deliver.
And despite securing a rest area to combat scorching heat temperatures and an increase in pay for night shifts, workers also say Amazon management has not done enough to address those dangerous heat conditions.
Anna Ortega, 23, shared that she's been "brushed off" by medical staff on site when dealing with nose bleeds and other health related issues due to heat conditions.
"A lot of times things are brushed under the rug," she said. "Managers say they care about our safety and to report injuries, but a lot of times they never do anything about it."
A study conducted by the Strategic Organizing Center demonstrates Amazon's workers suffer serious injuries at twice the rate of their competitors, despite making pledges to make the company one of the safest workplaces in the world.
At the time of publication, Amazon did not respond for comment.
Monday's walkout in San Bernardino is the latest event aimed at addressing working conditions in the e-commerce and supply chain industries nationwide. Amazon workers in Staten Island, New York successfully voted to form a union in April and UPS workers have recently held rallies to negotiate better pay with the help of the Teamsters.  It caught the attention of Senator Bernie Sanders, D-VT, who tweeted in support of the walkout.
"I stand in solidarity with the Amazon workers in San Bernardino, CA who walked off the job today to protest low wages and unsafe working conditions," he tweeted. "If Amazon can afford to pay its CEO $214 million last year it can afford to give their workers a $5 an hour raise and a safe workplace."
The Air Regional Hub was opened in March 2021 to handle the booming e-commerce activity fueled by Amazon – the region's largest private employer. Its opening and operation continues to be criticized by residents and community advocates who say Amazon's flights and job quality are contributing to the nation's worst ozone pollution and health problems in working class areas of color.
San Bernardino Airport Communities – a coalition composed of labor unions, community-based groups and environmental justice organizations – was on hand to remind workers of their legal worker protections and address concerns from workers.
Rodriguez, who grew up in San Bernardino, says it's important to remember the collective struggle for better wages and improved living conditions. He was overwhelmed by the number of people who came out to support Amazon workers.
"It was very up lifting. I grew up here and came to this church growing up, so to see this was very moving."