California Energy Commission's Patty Monahan meets with residents, local groups to discuss zero-emission transition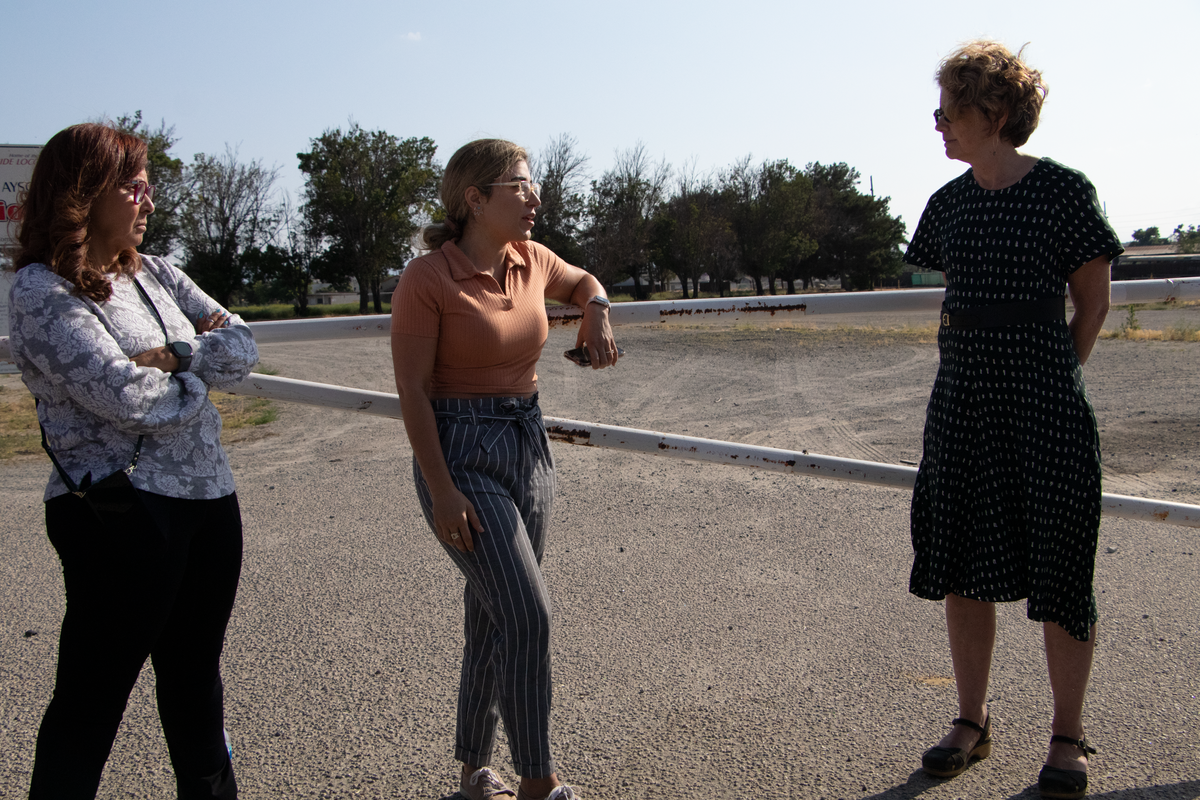 California Energy Commissioner Patty Monahan joined community groups in the Inland Empire on Wednesday, June 7 for a tour to learn more about the economic and health challenges associated with the warehousing and logistics industry. She heard from locals about their aspirations for a zero-emissions future and the hopes they have of the California Energy Commission's (CEC) role in supporting local utility agencies, vehicle manufacturing companies and warehouse operators in meeting statewide climate and energy goals.
During the tour, Monahan interacted with advocates and residents to address questions regarding the state's preparations for the transition to zero-emission medium and heavy-duty trucks. Sites visited include the San Bernardino International Airport, BNSF Intermodal in San Bernardino and the site of a proposed hydrogen refueling station on the Colton, Rialto and Riverside borders.
The sites mentioned are areas of focus for environmental justice organizations because they are situated in the most economically and pollution impacted areas of the Inland Empire. They are also places of opportunity for the industry's transition to zero-emissions, explains Sierra Club senior organizer Yassi Kavezade.
She says her group along with local environmental justice and labor organizations are following proceedings at CEC and other agencies like the California Air Resources Board (CARB) and the California Public Utilities Commission (CPUC) and know there are efforts already underway by agencies to reduce emissions from rail yard and warehouse operations
"These communities have been disinvested for so many years and we hope agencies like CEC will continue to prioritize the most undeserved and polluted communities," said Kavezade.
Despite amounting to about 6% of vehicles on the road, diesel trucks account for 25% of the transportation sector's emissions across California. Regulations such as the Advanced Clean Truck and Clean Fleets rules and the In-Use Locomotive rule are expected to bring millions of dollars in public health and ignite job growth in the clean energy sector.
But getting to that point comes with some big challenges, including installing thousands of chargers in disinvested areas like the Inland Empire and Central Valley in the next two decades. Roughly 1,900 electric medium and heavy duty vehicles exist in the state -- with most being buses. CEC officials shared in an assessment two years ago that they expect about 180,000 electric trucks and buses to be on the road by 2030. California needs to install about 157,000 chargers statewide to meet that demand.
Monahan admitted to tour participants that the transition to all-electric will be a tall task, but that the CEC is committed to finding ways to work with all stakeholders, including community groups, to "move faster."
"We're not moving fast enough. We have to move more swiftly," she said.
She hailed the state's decision from last year to invest $2.9 billion for zero-emission transportation as a strong step. Approximately $1.7 billion of that money will go toward medium and heavy duty infrastructure.
The CEC commissioner also hinted during the tour that other alternatives to warehousing and logistics can include planning for the zero-emission transition.
"Instead of putting warehouses, what about placing more charging stations in these communities?"