CREATE-IE event examines importance of 'Just Transition' for the Inland Empire
Stakeholders come together to discuss challenges, opportunities and solutions for the region's zero-emission future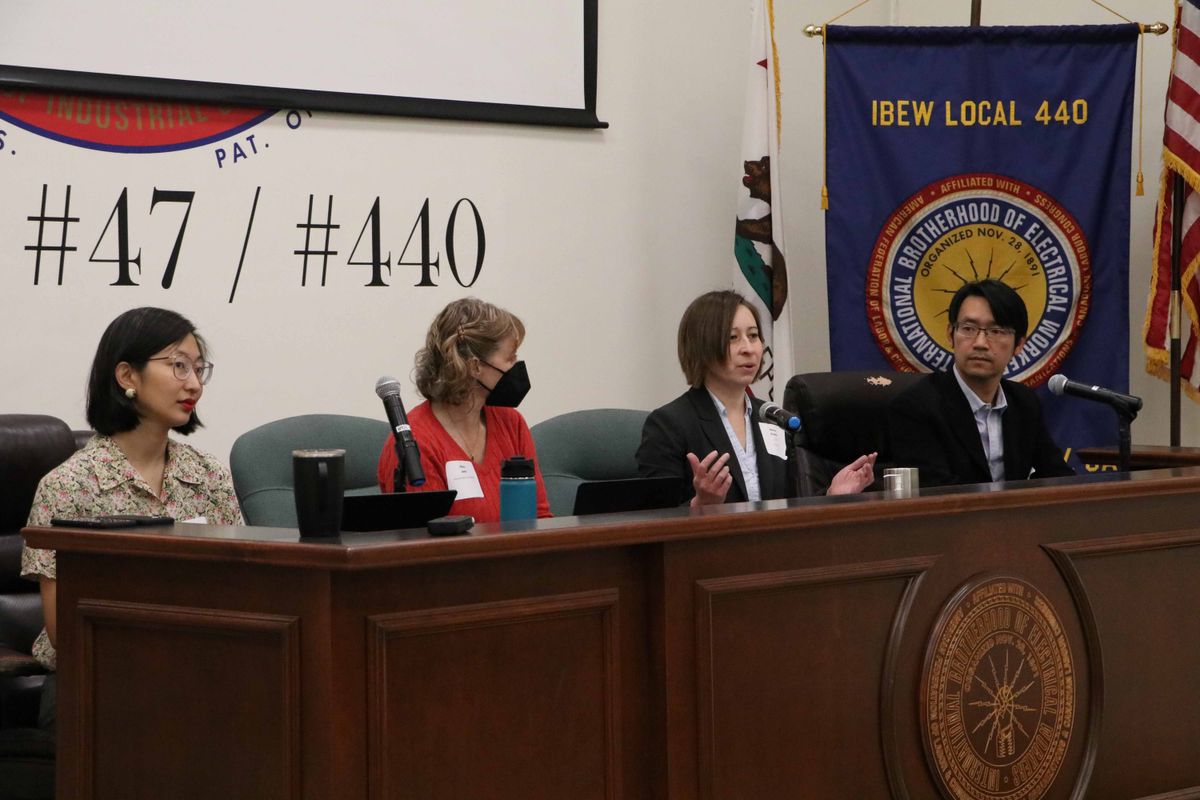 Story updated on Thursday June 22 at 2 p.m.
Communities across California are getting ready for the transition to zero-emissions. In the Inland Empire, experts and advocates are engaging in discussions about the potential benefits for workers in the warehouse and logistics industry, as well as the social and economic challenges and solutions that will arise during this shift.
On June 1, Plug In IE, a program of the Inland Empire Labor Institute, organized panel discussions and workshops to gather insights on the challenges and opportunities of moving away from diesel trucks. UC Riverside's College of Humanities and Social Sciences, Center for Environmental Research and Technology and Office of Sustainability joined Plug In IE, the IE Labor Institute, and the Inland Empire Labor and Community Center to host the 'CREATE-IE' research workshop.
Emissions from diesel trucks moving goods through warehouses, railyards and ports are associated with respiratory diseases, heart problems, and premature death. Additionally, the average hourly wage of workers in the area falls 6 percent below the national average.
Recognizing the urgency of the issue, policymakers, environmentalists and community leaders are holding conversations to underline the importance of a just transition for the Inland Empire economy. This means ensuring that communities disproportionately affected by pollution are not left behind, explained Hilary Jenks, co-director of the IE Labor Institute.
"As the industry electrifies and automates, we are trying to bring regional stakeholders toward a just transition. Together, we can transform an extractive system of low quality jobs and dependence on the carbon economy into a regenerative system of high quality jobs that build worker power…and anchors an environmentally just economy."
CREATE-IE research initiative led by UC Riverside (short for Collaborative Research to Expand and Accelerate Transportation Electrification in the Inland Empire) has secured funding through the university's OASIS initiative. According to Plug In IE, the project's primary focus is the technical feasibility of zero-emissions,  the community response to transition and the workforce development aspects of electrifying and establishing recharging infrastructure for medium- and heavy-duty electric trucks.
In one panel discussion, Dr. Aaron Katzenstein with the South Coast Air Quality Management District (SCAQMD) and Aaron Dyer with Southern California Edison (SCE) discussed how the transition will impact local air quality, the energy grid and the workforce. They both emphasized how effective cross-agency collaboration will be in addressing rising electricity demand and ensuring the state's energy grid can adequately support the expanding EV charging infrastructure.
Currently, there are approximately 1,900 electric medium and heavy-duty vehicles in the state, primarily consisting of buses. An assessment done by the CEC in 2021 forecasts a significant increase in electric trucks and buses, projecting around 180,000 medium and heavy duty vehicles on California roads by 2030. To accommodate this surge, the state needs to install about 157,000 chargers to meet the EV charging demand.
Agencies will also need to forecast the future movement of goods over the next two decades and strategically determine the locations of charging stations across communities throughout the state, Katzenstein spotlighted.
"Getting these trucks plugged in is not an easy problem to solve," Katzenstein said. "The distribution grid was not built for transportation. And now we're adding these big loads in a very fast manner."
Dyer said SCE's "north star" is to help California meet its clean energy and zero-emission targets by 2045. SCE estimates that it will require a $250 billion investment in the next 20 years that could lead to 10 million jobs being created. Sixty percent of those jobs will require specialized training, said Dyer.
"We're seeing an increased need to support 2-year [community college and trade school] programs," he said. "We're trying to understand where the emerging sectors are and where we want to make the investments in workforce development…At some point, what we do know is that we will need a lot of transferable, electrical skills across a broad diverse set of workers."
The Inland Empire Electrical Training Center (IEETC) provides training support for thousands of members of the International Brotherhood of Electrical Workers (IBEW) and the National Electric Contractors Association (NECA) across Riverside, San Bernardino, Mono and Inyo counties. Many of these electricians and apprentices are already helping support the state's transition to clean energy by helping install solar panels and battery storage hubs near the Nevada borders, explained IEETC training director Jonathan Rowe.
He added that IEETC is partnering with high schools and community colleges to create apprenticeship programs to help create a pipeline for the clean energy transition.
"You can't create a qualified electrician overnight," said Rowe. "It takes time. So, we have to be prepared to have that increase in manpower and partnering with our community base. It's important that we continue educating…and keeping that standard and bar high."