Fontana denies warehouse projects under revised General Plan. Fontana residents still believe city's actions part of "repetitive pattern"
Residents and environmental justice groups say city leaders are failing to "keep promises to the community." Mayor Acquanetta Warren disagrees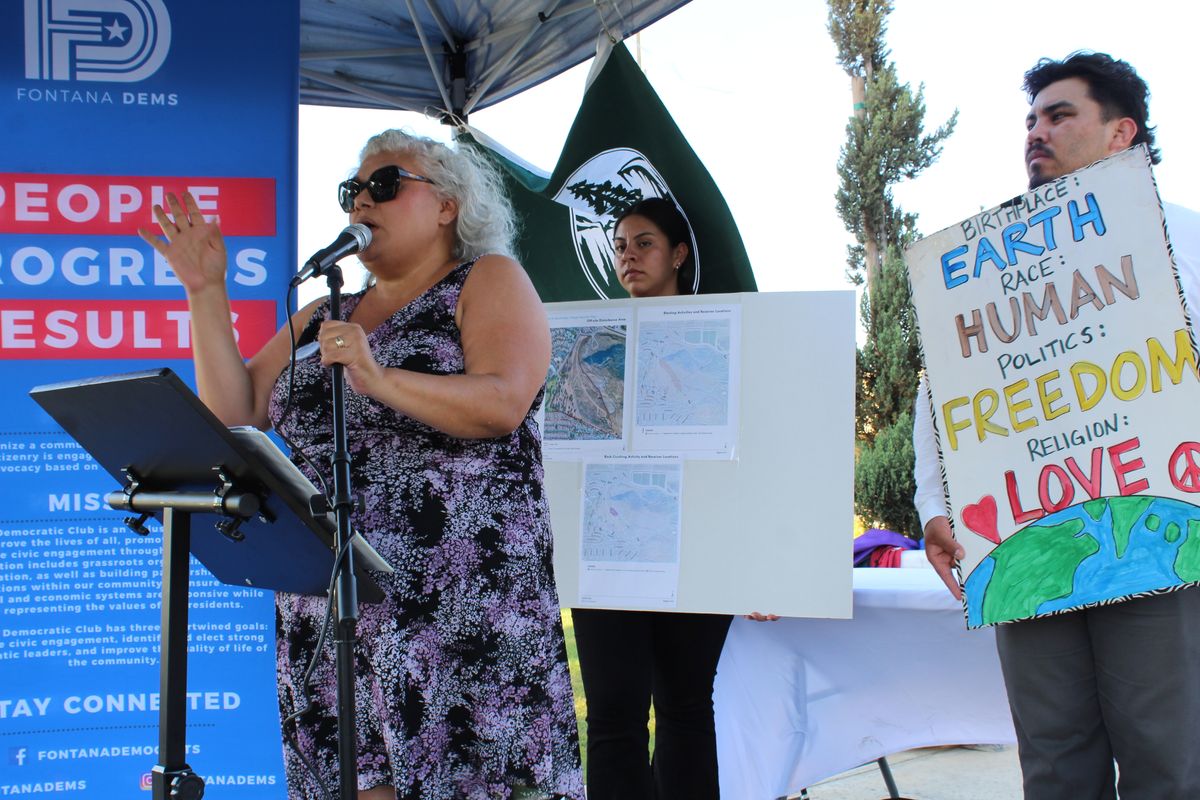 Three proposed warehouse projects planned for south Fontana near Jurupa Hills High School were denied by the City Council during their meeting on Tuesday July 25.
As part of amendments to the city's existing General Plan, the City Council was considering rezoning 29.4 acres of residential land and neighborhoods north of Santa Ana Avenue between Oleander and Citrus Avenues to industrial land use to allow for 541,000 square feet of warehousing development by Acacia Real Estate Group, a Newport Beach-based developer.
While other portions of the General Plan amendment were approved by the Council – including the Downtown Core mixed commercial and residential project and the 255 unit 'Heights at Southridge' condominium park  – Mayor Pro Tem Peter Garcia and Councilmembers John Roberts and Jesse Sandoval voted to strike down the warehouse amendments.
Several Southridge residents, along with community groups like the South Fontana Concerned Citizens Coalition (SFCCC) and the Center for Community Action and Environmental Justice (CCAEJ), say the Council's decision was a good step, considering recent history.
"In reality, we were pleased by the decision," said Teresa Cruz, who lives in south Fontana. "But unfortunately, the damage has already been done."
Cruz and others are referring to the Oleander warehouse project approved by the City Council in 2021 that ignited a legal battle led by California Attorney General Rob Bonta, SFCCC and the Sierra Club San Gorgonio Chapter against the city. The 200,000 square foot warehouse sits right next door to Jurupa Hills High School.
Despite receiving some assurances through a legal settlement, which required the City of Fontana to adopt an ordinance to ensure future warehouse projects include emissions reductions measures to address truck pollution and other environmental impacts, some in the community feel the city's amendments to the General Plan is part of a "repetitive pattern" of impacts forced upon the residents of south Fontana.
"They do not know how to keep their promises to the community," said Sierra Club San Gorgonio Chapter Chair Bobbi Jo Chavarria during a press conference in front of City Hall on Monday July 24. "We cannot count on what they say here."
In a follow press release, Chavarria – along with Elizabeth Serna of the SFCCC – shared "joyful surprise" over the rejection of the three warehouse developments, but expressed disappointment over the approval of the Heights of Southridge condominium project. Both argue the housing development will increase traffic congestion and eliminate Southridge wild lands that allow for hiking, biking and birdwatching.
"We are grateful that the students, parents, and staff at Jurupa Hills School won't be facing an exponential increase in truck traffic and industrial operations right next to their school, nor all of the health risks that we have been working to inform the council and community about," Serna said in the press release. "However, the vote to take away a valued community treasure adjacent to Southridge park is unacceptable without a complete Environmental Impact Report (EIR). Working from a 40-year old EIR does not allow the community to be informed about the severity of this destructive condo project."
Mayor Acquanetta Warren, who along with Councilmember Phil Cothran voted in support of Acacia Group's proposed warehousing amendments, disagreed that the adopted city ordinance and the city's approach to warehousing is forced upon constituents.
"The city had already begun to pull together all the state, federal and local laws in a place where we can provide to anyone who came to the counter and ask for these various developments," Warren told the audience during the City Council meeting. "That particular ordinance – we are proud of that adoption. It was set up to protect and keep our citizens safe."
Mayor Warren also discounted the notion that warehouse jobs are "go nowhere" careers. "We have so many opportunities for our young people in these buildings."
Cruz, who has lived in the area for 22 years, thinks increased warehouse development has led to more blight and is leading to a divestment for young people in that area. She hopes instead of more warehouses, leaders consider more sports fields and youth centers.
"These warehouses are creating a bad influence, and we as adults are responsible to stop it."
Christopher Salazar and Anthony Victoria contributed to this report