First ever SoCal tropical storm expected to bring heavy flooding, winds to Inland Empire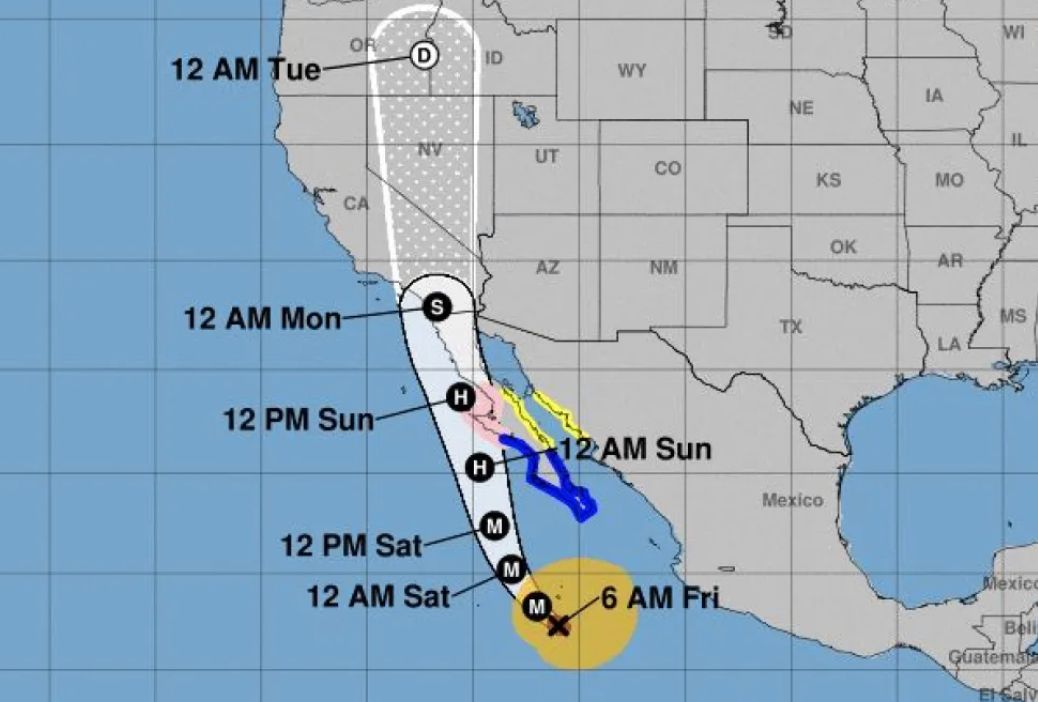 Southern California is on flood watch as Category 4 Hurricane Hilary makes its way to Baja California and through the region. The National Weather Service (NWS) has issued warnings for potential flash flooding in the Inland Empire, which may see mudslides and heavy flooding due to burn areas.
Mountain and desert regions of the Inland Empire should expect heavy rain – up to 11 inches – beginning on Saturday morning at 11 am through 5 pm Monday. The coast and the valleys should expect heavy rainfall starting Sunday at 5 am through 11 pm Monday.
This is the first ever tropical storm watch issued for SoCal in history. NWS Senior Meteorologist Alex Tardy agrees that this is the strongest tropical storm in the Pacific Ocean "by far."
"This is the type of rainfall we don't get in August and the type of rainfall a lot of these regions don't get even in a winter storm," he said. "This should be treated as a serious and unusual situation."
Powerful wind gusts or tropical force gusts may reach 50 to 60 miles per hour, says Tardee.
What to expect from Hurricane Hilary (Source - National Weather Service):
Flooding Rain
Extreme rainfall flooding may prompt numerous evacuations and rescues.
Rivers and tributaries may overwhelmingly overflow their banks in many places with deep moving water. Small streams, creeks, canals, and ditches may become raging rivers.
In mountain areas, deadly runoff may rage down valleys while increasing susceptibility to rockslides and mudslides. Flood control systems and barriers may become stressed.
Flood waters can enter numerous structures within multiple communities, some structures becoming uninhabitable or washed away. Numerous places where flood waters may cover escape routes.
Streets and parking lots become rivers of raging water with underpasses submerged.
Driving conditions become very dangerous. Numerous road and bridge closures with some weakened or washed out.
Powerful winds:
Prepare for dangerous wind having possible significant impacts across Southern California. Potential impacts in this area include:
Some damage to roofing and siding materials, along with damage to porches, awnings, carports, and sheds. A few buildings experiencing window, door, and garage door failures. Mobile homes damaged, especially if unanchored. Unsecured lightweight objects become dangerous projectiles.
Several large trees snapped or uprooted, but with greater numbers in places where trees are shallow rooted. Several fences and roadway signs blown over.
Some roads impassable from large debris, and more within urban or heavily wooded places. Hazardous driving conditions on bridges and other elevated roadways.
Scattered power and communications outages, but more prevalent in areas with above ground lines.