Momentum builds for a 'Just Transition' away from immigrant detention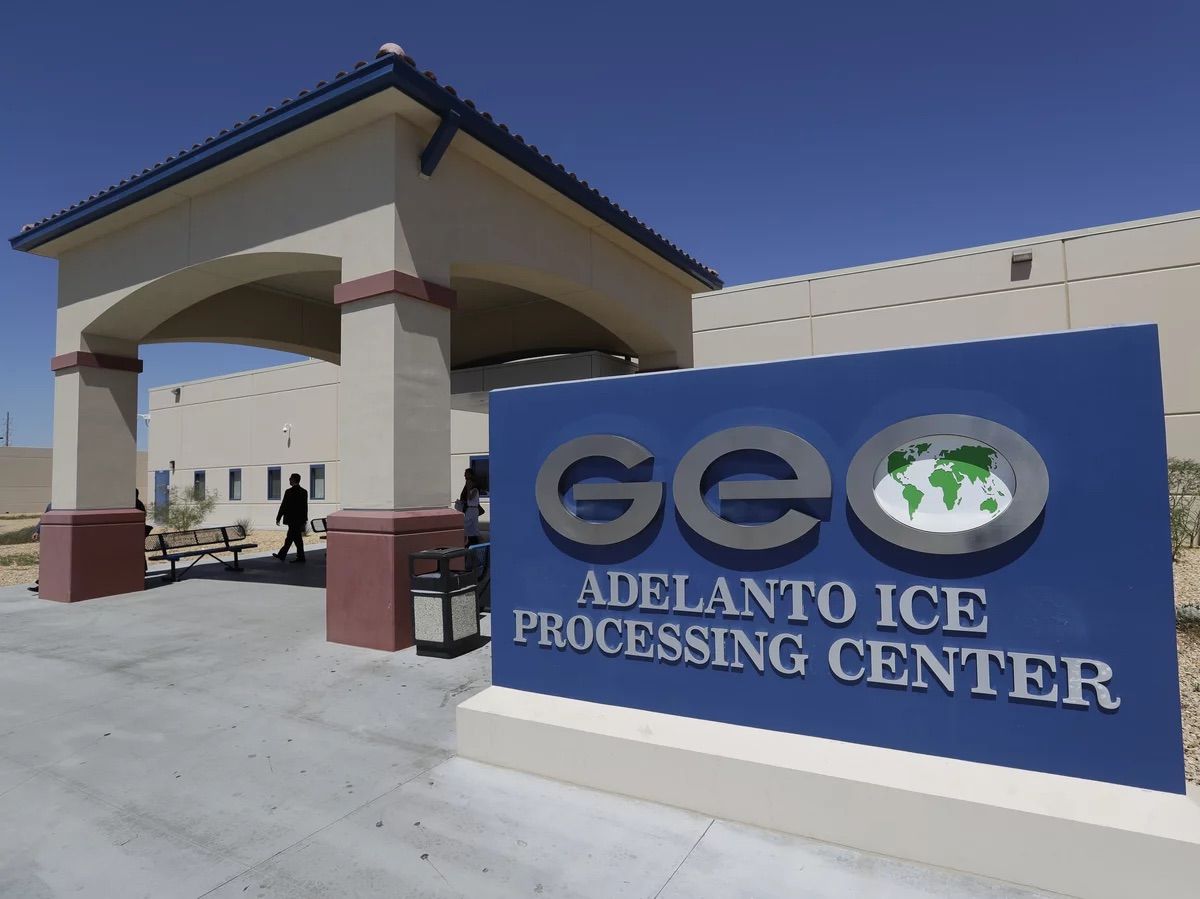 A coalition has successfully secured $5 million to help local governments facilitate a fair and "just" transition away from immigrant detention in California.
The Dignity Not Detention (DND) network – formed by organizations like the ACLU, Freedom for Immigrants, Interfaith Movement for Human Integrity and the Inland Coalition for Immigrant Justice (ICIJ) – put together a budget proposal as part of the coalition's Healthy Economies Adapting to Last (HEAL) campaign.
Thanks to the California Workforce Development Board (CWDB) making $5 million available for a "just transition," cities and counties where any of the six detention centers in the state reside can apply for funds to help shut down those facilities and assist those impacted by the closures.
That framework, first championed by environmental justice advocates, encourages an economic shift away from extractive fossil fuel, carceral, and law enforcement systems and toward the establishment of community-based alternatives to incarceration, as well as regenerative economies that prioritize living wage jobs in green sectors.
Cities and counties can start applying for some of the CWDB money to fund workforce retraining in their regions, explained Eddie Torres, an organizer with the ICIJ who helped develop the HEAL 2023 budget proposal.
"But they will first have to show proof that they are closing down the facility," he said.
Upon showing proof, the California Workforce Development Board can allocate them funds, says Torres.
"It hasn't been implemented yet, but we're working really closely with the city of Adelanto," Torres said.
Torres says he also recently met with Mayor Gabriel Reyes to discuss the funds available and ideas for a just transition away from detention in his city, where the Adelanto ICE Processing Center operates.
Though they haven't determined what industry would be the focus for the retraining, Reyes said Adelanto will likely apply.  
"I think it's a great concept," Reyes said. "I think it's something that can most definitely be utilized in the right manner to shift the workforce in our community."
The GEO Group owns and employs people at the Adelanto detention facility. The private prison company purchased what was previously a prison, the Adelanto Community Correctional Facility, from the city for $28 million in 2010 and converted it into an immigrant detention center that a 2023 lawsuit claims poisoned detained persons when the COVID-19 pandemic started – a recent example in a hazardous history dating back decades.
As explained in a June 2023 Just Transition Alliance article, "Decarceration as Environmental Justice," Torres and the Shutdown Adelanto (SDA) coalition led a "Toxic Tour" – documented on video – that explored environmental racism inside and around the detention center. Since then,  SDA has embraced a just transition paradigm in their organizing and advocacy.
From bacteria-contaminated water, to improper use of the HDQ Neutral pesticide that prompted the EPA to censure the GEO Group, the immigrant jail in the High Desert region of San Bernardino County has garnered a reputation for endangering health.
Torres explains that the Adelanto detention center exists as a product of the economic vacuum left after the closure of the pollution-prone George Air Force Base – a vacuum he said decision makers in the region tried to fill with prisons, jails and detention centers. He says this occurred in the 1990s, when the Clinton administration engineered a prison boom to bring jobs to rural areas.
But similar to warehouse jobs, which usually have a high turnover rate, the private prison industry's promise of opportunity isn't always guaranteed. Several months ago, GEO Group laid off dozens of employees at Adelanto, as the company has done before. According to the recent HEAL budget proposal, about 250 employees work at the detention center and another 200 are employed at the adjacent Desert View facility.
"Unfortunately, those jobs are still here, but they come and they go," Torres said. "They're unsustainable."
However, some who live and work near the Adelanto facility view the jobs provided by GEO as good opportunities. Daniel Penafiel, a sergeant in the Adelanto facility at the time of the recording, shared in a February 2020 GEO video that there aren't many high-paying jobs in the community. Penafiel recalled that before he started working at the detention center, he had to commute up and down the hill, an hour or two each way, to earn a living.
"I have the benefits that GEO provides – our health care, our vision, our dental, our life insurance and 401k," he said on camera.
Diana Bonilla, an administrative assistant at the Adelanto facility, said in a March 2020 video that as a first-generation Mexican American, she takes it personally how detainees are treated. She added that GEO often offers medical treatment some detained individuals probably needed their entire lives.
"If something were to happen to our facility, I would have to uproot my family, and that's definitely not something I want to do," Bonilla said on camera.  
Alexandra Wilkes, a spokesperson for the Day 1 Alliance, the trade association that represents contractors like GEO Group who work with government agencies like Immigration and Customs Enforcement, shared via email that state support for a just transition seems like the latest attempt "to advance a political agenda of abolishing ICE by proxy and opposing any type of federal immigration detention."
Wilkes added that members of D1A "remain focused on providing real solutions that meet the stated needs of government, as we have for decades under both Democratic and Republican administrations."
José Bravo, executive director of the Just Transition Alliance, an association with a 26-year history of promoting the vision that healthy economies and clean environments should be realized without costing residents and workers their well-being or livelihoods, said an entire community cannot be sacrificed for a few to earn income in a harmful sector.
"We'd rather get that handful of people producing something that benefits the community instead of [doing what] takes away from the community," he said.