Sierra Club My Generation leader and Highland resident Angie Balderas awarded 'Leadership in Environmental Justice Award' by SCAQMD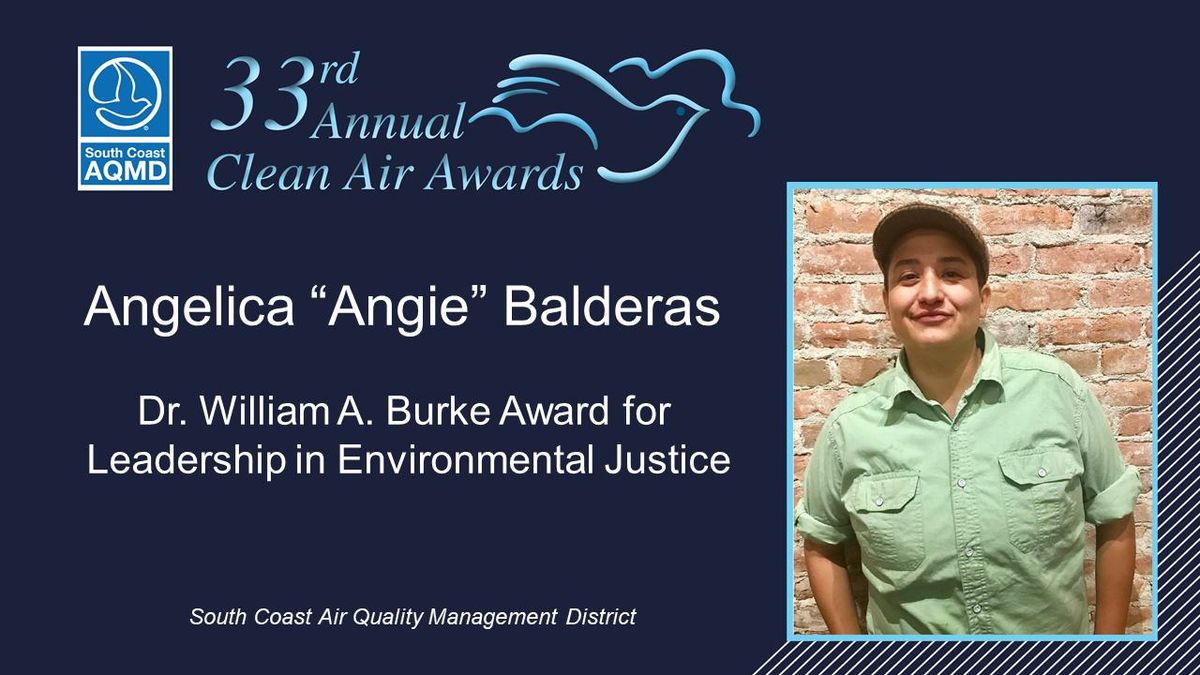 Angie Balderas, who serves as Inland region community organizer for Sierra Club's My Generation campaign and as co-chair of the San Bernardino/Muscoy AB 617 Community Steering Committee, was awarded the Dr. William A. Burke Award for Leadership in Environmental Justice by the South Coast Air Quality Management District (SCAQMD) during their 33rd Annual Clean Air Award virtual ceremony last Friday Jan. 6.
Balderas is working alongside communities near the San Bernardino International Airport and in the City of Colton to address particle and smog pollution connected to the area's massive freight operations. She's been an integral part of yearslong advocacy that has helped convince agencies like the SCAQMD and the California Air Resources Board (CARB) to adopt warehouse and electric truck regulations to help clean up the logistics industry.
Balderas shared during her remarks that she has about 20 years of experience working with labor unions and LGBTQ+ organizations. She was once a board member of the Inland Regional Equality Network (IREN) and a special project union representative for United Food and Commercial Workers Local 1167 (UFCW).
During SCAQMD's virtual ceremony, Balderas expressed appreciation for her family, her Sierra Club My Generation colleagues and the residents of environmental justice and community organizations who continue to fight for clean air.
"I'm honored to receive this award on behalf of our communities," said Balderas. "This award is ours…None of this would have been possible without the love and support of all these folks."
She continued, "No matter who you are, whatever we do, I want to remind folks to always put community before anything."
Balderas is a constant presence inside local and state government board rooms, said recently-appointed SCAQMD Board Chair Vanessa Delgado.
"[Angie] is someone who constantly holds me accountable," shared Delgado, who presented Balderas with the award. "She really does work tirelessly to create a new paradigm for how [SCAQMD] works with communities."
The full list of award winners honored by SCAQMD:
S. Roy Wilson Memorial Award for Leadership in Government: U.S. Senator Alex Padilla (D-Calif.)
Dr. Robert M. Zweig, M.D. Memorial Award: Congressman Alan Lowenthal (CA-47)
Dr. William A. Burke Award for Leadership in Environmental Justice: Angelica "Angie" Balderas, Sierra Club
Innovative Clean Air Technology: Orange County Transportation Authority
Leadership in Air Quality: Watts Clean Air & Energy Committee
Youth Leadership in Air Quality: Andy Fung, Asian Pacific Islander Forward Movement