Teamsters build on Palmdale strike momentum with picket at Mira Loma Amazon facility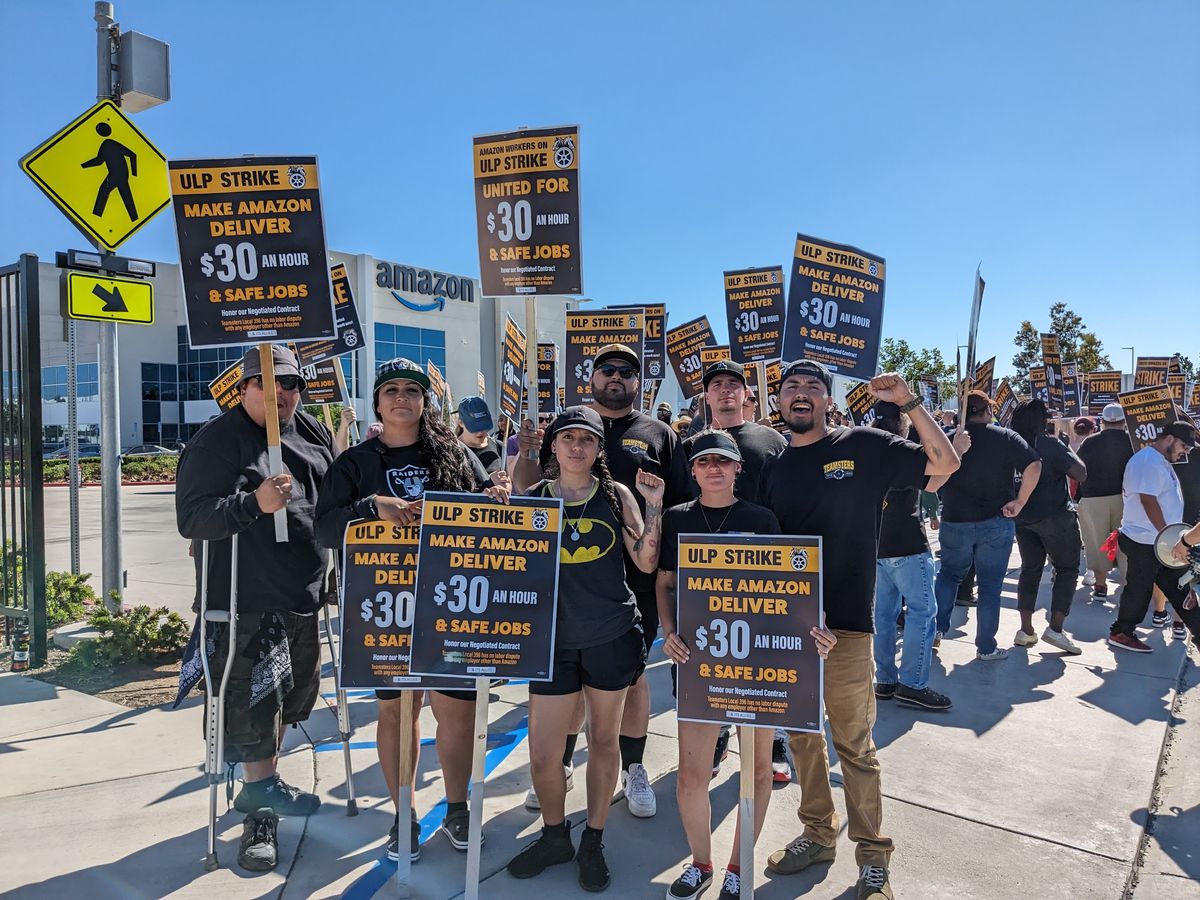 Following a strike by Amazon delivery drivers and dispatchers in Palmdale, as a response to what they argue constitutes unfair labor practices by the global retailer, Teamsters Local 396 staged a six-hour picket outside of the ONT1 Amazon Sort Center in Riverside County.
On Sunday, union members and allies encircled the entrance to the lot that separates the Amazon buildings at 11100 and 11200 Iberia Street in the Mira Loma area of Jurupa Valley.
Prior to this weekend's strikes, the 84 workers with Amazon's Delivery Service Partner (DSP), Battle-Tested Strategies (BTS) walked off the job and withheld their labor on June 15. In April, DAX8 dispatchers and drivers unionized with the International Brotherhood of Teamsters, joining Local 396. Soon after organizing, they ratified a contract with BTS.
Teamsters criticized Amazon for failing to honor the agreement. They filed a ULP charge with the National Labor Relations Board, alleging the e-commerce titan eliminated BTS routes to stymie unionization and in retaliation for the union drive. The charge alleges Amazon terminated an entire bargaining unit, transferred work to non-unionized staff and caused employees affiliated with Local 396 to be discharged.
Eileen Hards, an Amazon spokesperson, shared a company statement claiming the narrative put forward by the Teamsters is false.
"The facts remain that months ago, Amazon terminated its contract with Battle Tested Strategies effective June 24," according to the statement Hards provided in response to questions posed via email. "That company and their employees no longer deliver Amazon packages."
Jesus Gutierrez, a driver from Palmdale and Local 396 member, disputed the claim that workers don't labor for Amazon.
"We have a card to get to the Amazon warehouse," Gutierrez, who noted an Amazon employee trained him when he started around last October, said as he picketed at ONT1 on crutches. "We have access to the bathroom, to the break room. And then we drive Amazon vehicles, vans."
Union members carried picket signs Sunday evening in Jurupa Valley that called on the multinational firm to stop retaliating, bring back workers who had been terminated unlawfully, increase wages and improve job safety.
Brandi Diaz, a Local 396 member and a driver at the Amazon station in Palmdale, said she came out to picket on June 25 to contribute to the fight for better pay, increased benefits and safer environments for all employees.  
"The packages matter more to Amazon right now," she said, later adding: "I delivered in a van last year in the summer. [Outside the temperature reached] 115. Inside my van, it was 130. I don't have no AC. My fucking windows that day didn't roll down."
Diaz recalled she was told to do the best she could when she made deliveries on a desert route with no shade.
"Our brothers and sisters at UPS, they make more than us right now," she said. "We do the same thing. The only difference is they wear brown, we wear blue. They're getting approved for their ACs right now. We don't have ACs in our vans."
Teamsters affiliated with UPS joined the approximately 100-person strong Inland Empire action.
Miguel Chong, a long-time UPS worker and Local 63 member who joined the picket, referred to working conditions, wages and benefits at Amazon as "a problem."
"We're trying to get all that improved to get them what they deserve," Chong said.
Chris Valdivia, another UPS worker who, like Chong, has been with the Teamsters for more than 15 years, said he and co-workers have seen Amazon upend the industry.
"Transportation and warehouse workers alike, we're standing up today and fighting back — and in solidarity with our brothers and sisters out of Local 396 up in Palmdale," Valdivia added.
Throughout the evening, he and others walked around the lot entrance carrying signs and participating in call-and-response chants — including, "What do we want? Justice! And when do we want it? Now!", "Amazon you can't hide. We can see your greedy side!"
Several Sheriff's Department vehicles arrived just before 5 p.m., prompting calls to "Hold the line!"
Over a loudspeaker, an officer asked for a union representative to come forward "to coordinate" the "legal assembly."
Authorities remained parked across the street as the picket blocked delivery trucks from entering the lot. At one point, some 15 trucks total were backed up in two rows along Iberia, extending down the block to Etiwanda Avenue.
Several drivers who had been sitting in their vehicles outside the lot entrance got out and joined the picket.
One driver who left his parked truck picked up a sign.
"Amazon's paying them cheap and the truck drivers cheap," he said on the picket line.