Vote on controversial Bloomington Business Park Specific Plan scheduled for Nov. 15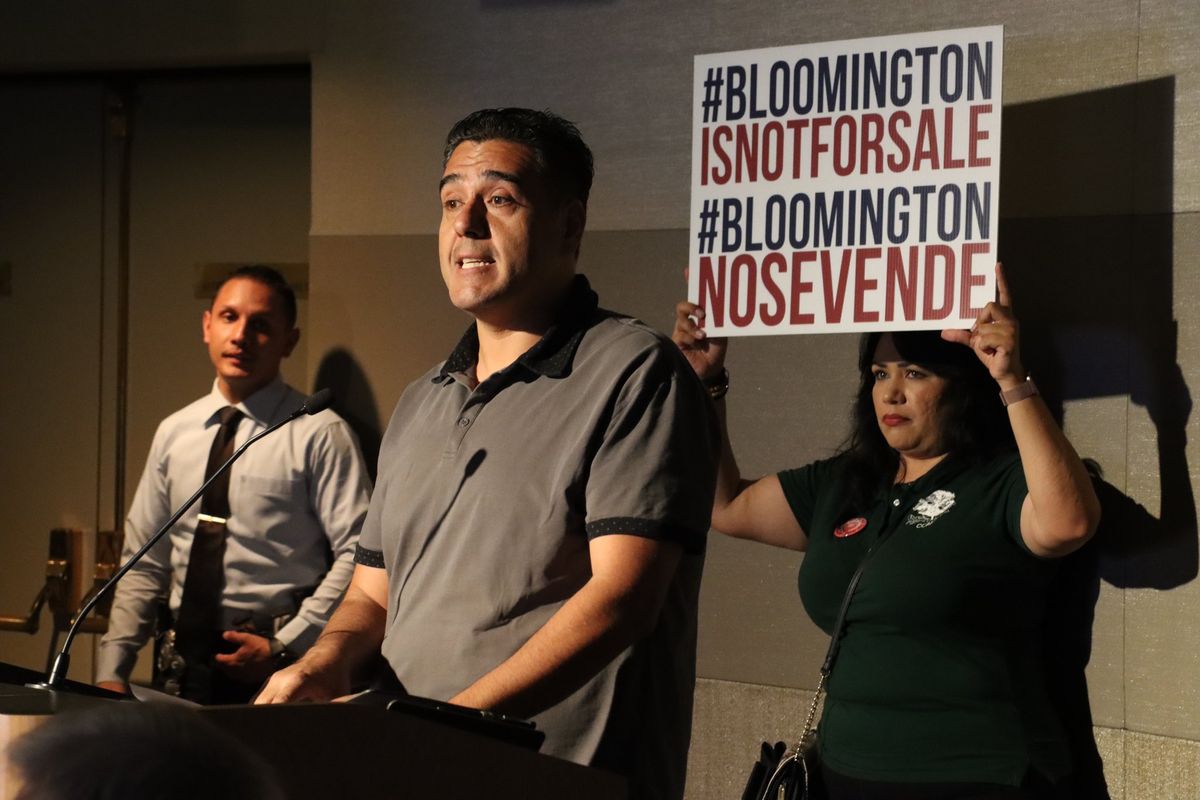 The San Bernardino County Board of Supervisors public hearing on the controversial Bloomington Business Park Specific Plan is scheduled for Nov. 15. The meeting is scheduled to begin at 10 a.m. inside the County Government Center in downtown San Bernardino.
As was the case during the Planning Commission meeting in September, dozens of Bloomington residents and several environmental justice and labor unions are expected to show up to provide public comment on the plan proposed by developer Howard Industrial Partners.
Approximately 213 acres of land in largely equestrian parts of Bloomington -- south of Interstate 10 -- is slated to be turned from residential, rural land to about 3.2 million square feet of warehouse and industrial building space. The project's approval will also trigger an already approved agreement between the Colton Joint Unified School District (CJUSD) and Howard Industrial Partners to relocate Zimmerman Elementary School on Linden Avenue a few blocks east to Cedar Avenue to help make room for the large development.
All that stands in the way of the proposed plan is a rubber stamp from the Board of Supervisors, since the governing body's appointed planning commissioners voted 3-0-1 on Sept. 20 to approve the project. Since that time, the Concerned Neighbors of Bloomington have surveyed community residents to gather opinions and concerns, as well as held 'cabalgatas' (horseback rides) to demonstrate resistance to the plan.
Bloomington resident Esmeralda Tabares explains that many homeowners and residents are certain the plan will increase air pollution, worsen traffic congestion and the quality of life overall.
"This plan would ultimately eradicate the essence of the Bloomington community," said Tabares, who is also a leader with Concerned Neighbors of Bloomington. "Having access to this land allows us to exercise our greatest cultural desires through having small ranches with animals and growing plants. These warehouses will monstrously loom over our town, displacing our wildlife, culture and families."
During the seven-hour planning commission meeting back in September residents who oppose the development -- along with environmental justice groups -- poured into the Government Center to share their concerns.
"The possibilities of these warehouses having a big impact on our neighborhoods is high," shared Andres Moreno, who has lived in the area for 14 years. "We're hearing a lot about money but not community health."
Members of the Bloomington Municipal Advisory Council and construction workers affiliated with the Southwest Carpenters Union and Labor International Union of North America (LIUNA) shared that the project would bring added financial value to Bloomington by helping create jobs and bring much-need infrastructure, such as sidewalks, to the unincorporated town.
"We will be getting revenue that is needed so that we can further work to become our own city," said Bloomington MAC member Teresa Escoto. "We haven't ever been presented with a project of this scale that would be beneficial and help us sustain ourselves."
Regarding community concerns about air pollution from increased truck traffic, Escoto says the plan aims to address this by implementing air filtration systems and clean vehicle technology at warehouse sites.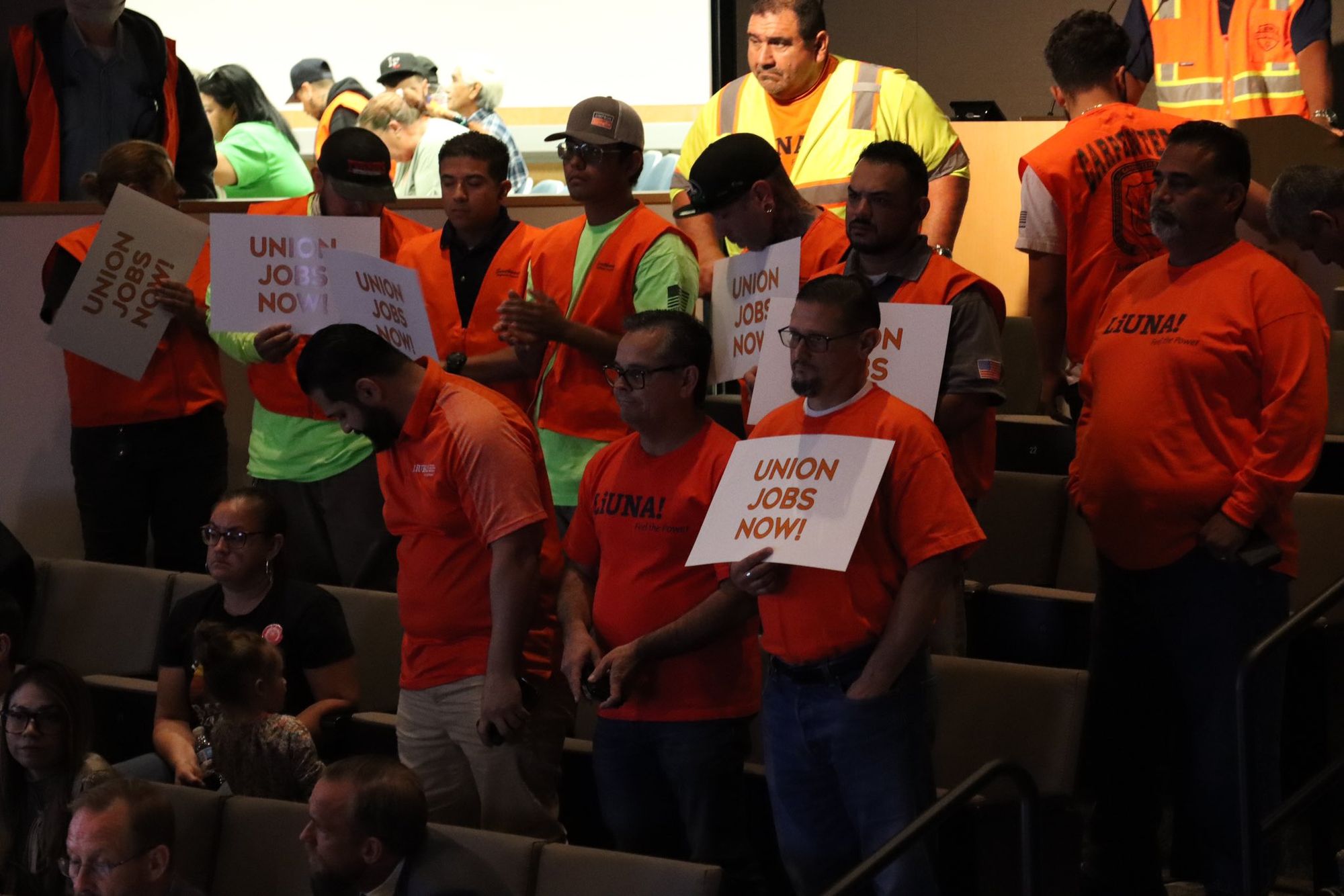 "I really like that this new school will have a better air filtration system for students," said Escoto. "They're currently in a 60-year-old school so they don't have that benefit. This is something they won't have if this project isn't built."
Tim Howard, founder and partner of Howard Industrial Partners, said that his agency has been in communication with the California Attorney General's office about the plan and is following their recommended best practices. He echoed similar comments about raising the bar for Bloomington, explaining that the area is a key link for America's supply chain industry.
"What we're planning in Bloomington raises the bar for our competitors and ourselves," Howard said. "We have embraced our neighbors, embraced some of the community organizations that are active, including the local little league."