Warehouse project to bring hundreds of trucks, pollution daily near Pepper Avenue and 210 Freeway in Rialto
Mayor Robertson to Howard Industrial Partners: How do you even want to do something in a community when nobody wants your project?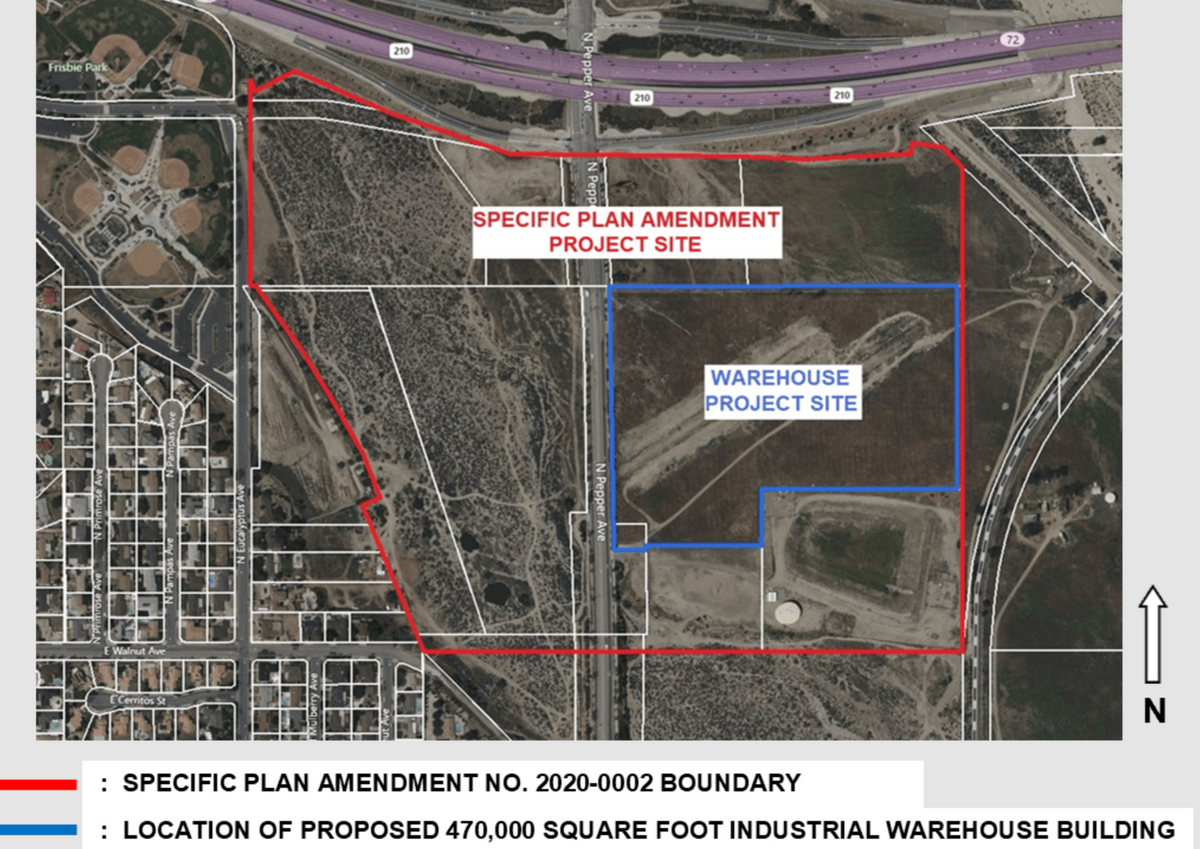 Despite opposition from residents, community groups, the Rialto City Council decided to grant approval to a massive 470,000 square foot warehouse near Pepper Avenue and the 210 Freeway on Tuesday, June 13. Concerns were raised about the potential adverse effects on air quality, public health and traffic in the eastern part of the city.
Howard Industrial Partners will be constructing the project, and it will now be incorporated into an updated Pepper Avenue Specific Plan. This revised plan will introduce a combination of retail commercial and light industrial uses, transforming the relatively undeveloped natural landscape area into a "mixed-use" development.
Mayor Pro Tem Andy Carrizales and Councilmembers Ed Scott and Rafael Trujillo voted to approve the development, while Mayor Deborah Robertson and Councilmember Joe Baca Sr. opposed.
"I hope these people in the audience know that I didn't vote for this project last time," said Robertson. "How do you even want to do something in a community when nobody wants your project? I really don't understand it."
The Environmental Impact Report (EIR) for the project indicates that the trucks associated with the facility will have a "significant and unavoidable impact" in terms of nitrogen oxide (NOx) emissions. The report's analysis of air quality impact reveals that the estimated 829 daily truck and vehicle trips resulting from the new warehouse will contribute approximately 90 pounds of NOx emissions daily to the local atmosphere, as well as roughly 9,926 metric tons of carbon dioxide annually. These figures exceed the pollution thresholds set by the South Coast Air Quality Management District.
Similar to the fiercely debated City Council meeting in April, residents voiced their frustrations once again regarding the council's decision to endorse both the warehouse project and the revised Specific Plan. Many people in attendance raised concerns about the proximity of the warehouse development to Frisbie Park, which underwent renovations for baseball fields and playgrounds only a few years ago. Other residents insinuated that the city leaders prioritized economic interests over the well-being of the community.
"I follow the money, the money is always important," said Lupe Camacho. "And there will be other kinds of money that will be transferring hands…But, I want to remind you that this is something that the community really cares about…That money isn't going to be worth really much if the people decide that they don't trust you, don't believe in you and that you don't have their welfare in your heart and mind."
The vote to approve the warehouse project and amended specific plan was initially approved back in April, but was brought back to dais because of changes to a voluntary community benefits agreement. This agreement will now provide $5 million to the Rialto Unified School District (RUSD) to support school programs, $5 million to the Rialto Police Department and $1 million for National Latina Business Women Association Inland Empire Institute.
Robertson appeared bewildered by the wording in the voting resolution, which she claimed designated the City of Rialto as the primary authority responsible for overseeing these benefits.
"You told me you didn't go with the developer to negotiate this. You weren't at the table," Robertson told city staff. "Why are we making these modifications and amendments?"
City Attorney Eric Veil explained that the project developer, Tim Howard, has volunteered to meet certain actions or community benefits as part of the project.
The Mayor in response made it clear that she didn't approve of the developer's actions and would oppose the project. She addressed the project developer, Tim Howard, and made clear her frustration with the process.
"I've said to [Mr. Howard] and I'll say it here, I know he could do better if he wants to. I also said, when he called me, that I don't care if the [Pepper Avenue] area stays open and pristine and Yucca plants growing out there in that field. I like it like that."
While Councilman Trujillo supports the Howard project he hinted that he would support a warehouse moratorium that could allow city officials to create a "community benefits agreement ordinance" to bring more improvements to city residents and services.
"We continue to have these projects come to our city," he said. "But there needs to be an agreement among the council members to see what type of benefits our community needs. I mean, even inviting community members to be a part of that discussion."